Copyright ©2015 Complete HealthCare Solutions, Inc 1497 N Main Street Palmer MA 01069 ph 1-800-250-8687 fax 1-413-668-0022| Contact us | Legal notice
Click the desired button below to view the status of the applicable service.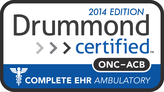 UnifiMD Hotfix Release Schedule

Updates for UnifiMD will be released Quarterly.

Last Update Released
Tuesday, October 16, 2018
Version 2.0.2.1
New Feature Training
Watch the video below to learn how to update UnifiMD
Previous Production Releases
Friday, June 22, 2018 - Version 1.2.137
UnifiMD clients may be experiencing issues utilizing Updox at this time.
Please contact CHS for assistance if you are experiencing any issues.